WINE BAR MORITZINO
Only the best
If you are looking for a quiet corner to take refuge in, immerse yourselves in the peaceful atmosphere of our Wine Bar where you can savour a good drink and recharge your energies with some snacks. Do you feel tempted? Then our Wine Bar is the right place for you.
In this snug ambience, you will be greeted by congeniality and competence of our sommelier. It's him who'll guide you through our refined wine collection. It's copious and variable, each bottle is special in its own way - you will certainly need some aid in choosing the right one.
WINE, SPARKLING WINE AND CHAMPAGNE AT A HIGH ALTITUDE
The labels we've selected for you are numerous. All the eminent names are here, like that one of our old partner from Trento, Cantine Ferrari. Many of the sparkling wines that we serve are of their production. But we offer also the excellent brut from the Pittaro cellar.
As for the Champagne, we prefer to rely on the great classics: Crystal Roederer, Dom Pérignon, Perrier Jouët, Moët & Chandon are the bubbles that can't miss in our cups.
And finally wines. Absolute favorites are the local ones. Spicy white wines with strong character like Chardonnay, Sauvignon, Müller and Thurgau. Or such great red wines as Lagrein, Blauburgunder and Magdalener. Wines with unmistakable scents selected from the most important South Tyrolean cellars. Austrian and German Rieslings and the scintillating Gewürztraminer are unavoidable as well.
And if instead you prefer a glass of substantial beer, don't worry because we have many particular types of it, even those fitting to the celiacs.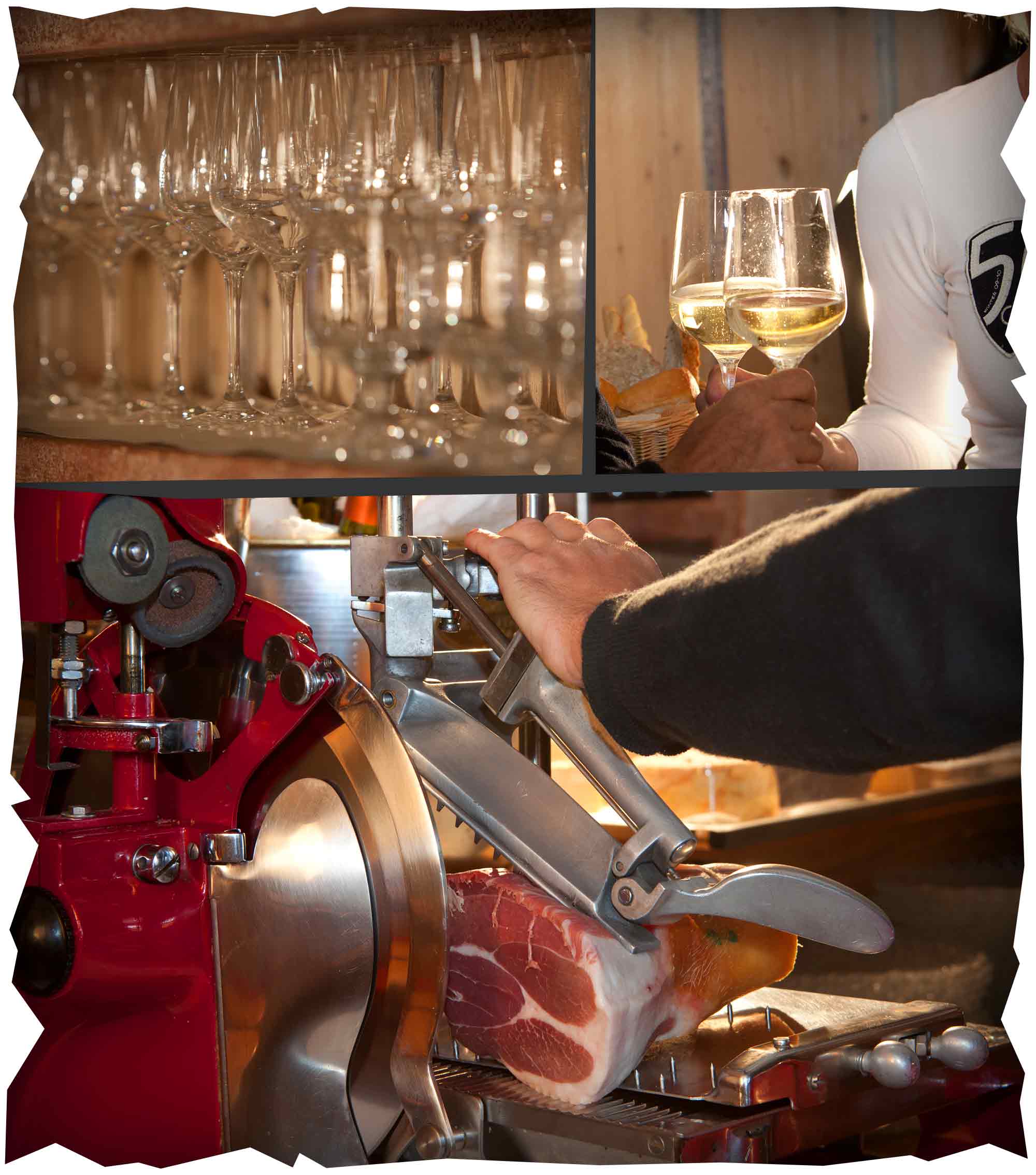 NIBBLES, FIRST AND SECOND COURSES
There's nothing better than to accompany a good drink with a tasty snack. At our wine bar, you'll find lots of small tidbits to calm down your hunger.
A selection of cheeses from dairy factories Capriz and De Gust, small flavor masterpieces to be combined with pickled fruit and marmalade. The delicate San Daniele ham from factory Zanini and other thoroughly selected cold cuts. Freshest oysters for those who want to pamper themselves with an aphrodisiac canapé.
And in case it isn't enough, you can order some dishes from our restaurant. Home-made ravioli filled with cheese-and-truffle fondue, potato Rösti with eggs and truffle, or juicy Nebraska cuts. And when it's sunny, we cut the pork roast in front of you.
LIVE BEAUTIFUL EXPERIENCES