RESTAURANT MORITZINO
SEAFOOD ON THE SNOWS OF THE BADIA VALLEY
Close your eyes and open your senses wide to an extraordinary culinary experience. Delicate flavours of squid ink noodles, laid upon a velvety carpet of clams and scallop carpaccio, will melt on your palate, enchanting it. The scents of Chardonnay Kreuth of 2011 will spread in your throat, guiding you through this unforgettable journey.
Now open your eyes - the dazzling whiteness of the snow will blind you for an instant. Then you'll start seeing them all around - the majestic peaks of the Dolomites that stand out from the limpid blue sky. As far as the eye can see, the snow covers the lawns with its pure white mantle.
GOURMET RESTAURANT SURROUNDED BY THE DOLOMITES
Welcome to Moritzino, an exclusive gourmet restaurant at a height of 2100 metres, in the very heart of the Badia Valley. It's Francesco, our Maitre, who will accommodate you on the glazed terrace, wide open at the Dolomites. And it's still him who will lead you to the discovery of chef Marco Spinelli's cuisine.
The menu we propose plays with sought combinations of seafood-based dishes. We look for freshest products there, where we know they are the best, like lobsters and prawns which we receive from Mazara Del Vallo. It means that our menu varies according to seasonal ingredients.
Certainly, we've also taken care of those who won't reject the strong flavor of meat. Grilled fillets and Nebraska cuts have a place of honor in our list and are able to satisfy even the most demanding palates.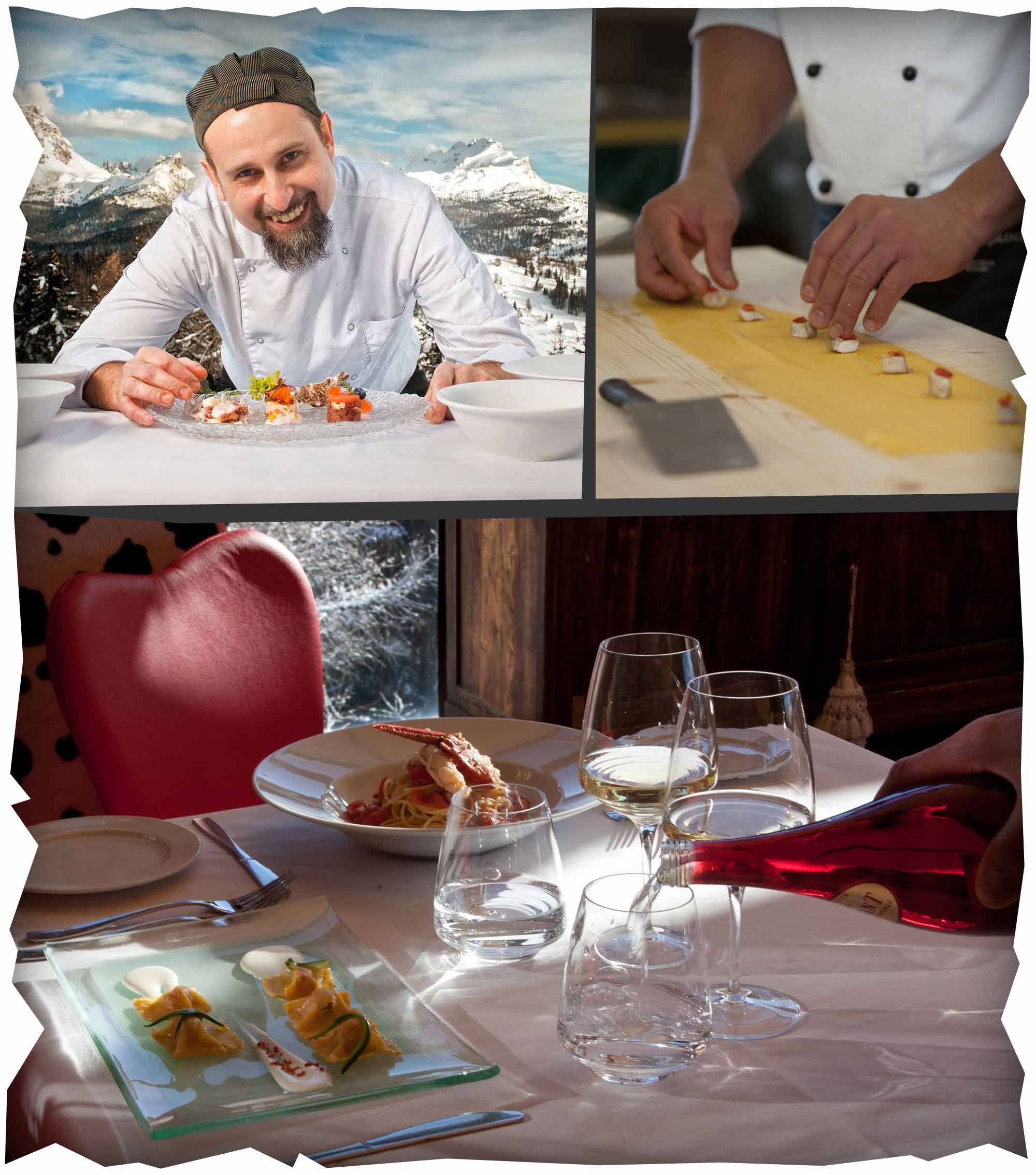 WINES AND DESSERTS TO CROWN YOUR EXPERIENCE
Our dishes can't go without the famous South Tyrolean wines. Their aromas perfectly suit the cuisine we propose. In addition to the bottles from the best local wine cellars, we've selected some of the finest Austrian and German Rieslings bringing some international flair to our menu.
And finally desserts. Minute fantasies of flavors and colors to delight your eyes and palate. Savor a chocolate cupcake with olive oil and orange sauce, let yourself be seduced by the renown Moritzino strudel, yield to the temptation of enjoying lime zuccotto with raspberry and soft fruits sauce.
LIVE BEAUTIFUL EXPERIENCES